Newsletter 3 – Parents Take a Bow!
We are now nearly eight weeks into our very new and strange situation. While we may be restricted in our physical movements we are zooming around in the virtual world and the resilience of our young folk is indomitable.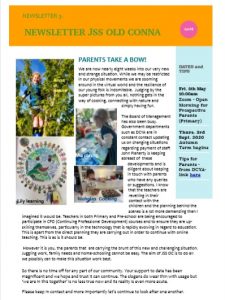 Newsletter 2 – The Forest Schooling has started!
Friday last was amazing and a joy. The Primary had their first real foray into the forest and they loved every minute. They ate, they played, they made bird feeders, they climbed and swung on ropes. They could even answer the call of nature in a private secluded spot with no interruptions.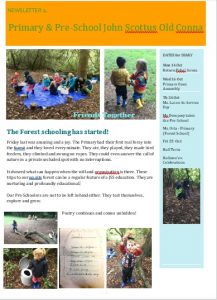 Newsletter 1 – So Many Firsts!
One of the first 'labours' in our treasured surroundings was the planting of an Oak Sapling by our Pre-Schoolers. On every level this event speaks volumes- it is small, fragile and dependent but with care, nourishment and attention who knows what will happen! It may reach its potential as a mighty Oak, giving shelter, fun and sustenance to everything around it.