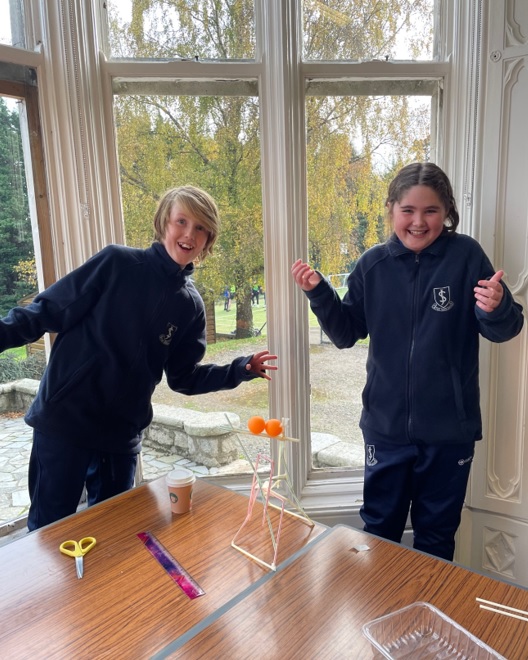 This year's Science Week was celebrated from November 14 to November 18 in John Scottus School. The Science Department organised several events to bring Science awareness and Science fun to the school community.
The hall was transformed into a hall of fame for famous scientists from Marie Curie to Richard Feynman. A Science jokes wall was also created to highlight various scientific concepts and humour. In-class quiz competitions were organised for all year groups, including science, Chemistry, Biology, and physics quizzes.
The Engineering competition was back by popular demand. This year's challenge was building a free-standing 30cm tall tower using drinking straws to support two table tennis balls in 10 minutes. Thirty students participated. The teams explored some very clever ideas involving various geometrical shapes. The winning team successfully built the tower in 7.3 minutes. Well done to Jacob and Elijah from 6th year!
Finally, Mr Pender demonstrated a water rocket launch on the Astro pitch to close this year's Science Week. Thank you to Mr Pender, Mr Brady and Ms Gubbins for organising all the events. To see some pictures of the event, please click here.
Competition results:
| | | |
| --- | --- | --- |
| | Competition | Winners |
| 1 | Engineering Challenge | 1st Elijah and Jacob (6Y) 2nd Oliver and Layane (1Y) 3rd Kin and Sam Johnston (2Y) |
| 2 | Science Quiz (1Y) | 1A Matthew Shaw 1B Will McGuinness |
| 3 | Science Quiz (2Y) | Maks Sean Oisin |
| 4 | Science Quiz (3Y) | Ali |
| 5 | Science Quiz (4Y) | Tuna Eric |
| 6 | Chemistry Quiz (5Y, 6Y) | Mikey Joe |
| 7 | Biology Quiz (5Y, 6Y) | Bea Alisa |
| 8 | Physics Quiz (5Y, 6Y) | Anahita Mikey |