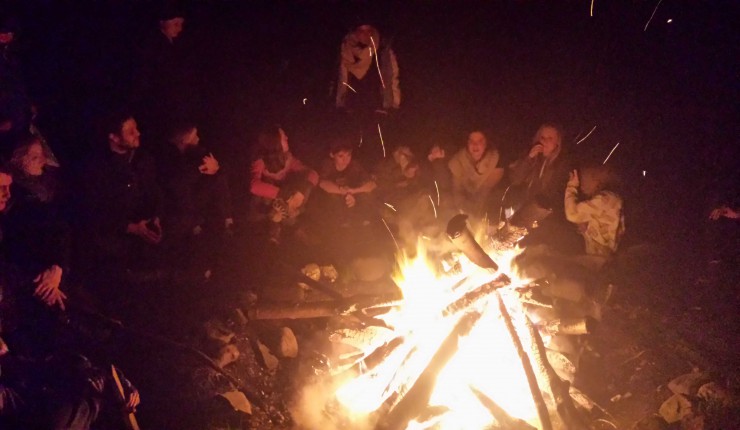 A report on the trip by Mr. O'Connor:
The house leaders of Venus, Neptune and Mars organised a trip to Townley Hall on Friday 16 January. The main organiser was Head Boy Eduardo Travesi assisted by  Isabelle McGeough, Kiah Ronaldson and Christian Devine. Mr O'Connor, Miss Sweeney, Miss Cronin and Mr O Duffy went along for the ride. There was 36 in the group including the 4 teachers.
Mr Bond drove the white bus and took the port tunnel while Mr O'Connor drove the smaller bus "by lorries along Sir John Rogerson's Quay" across the Samuel Beckett Bridge and north via Drumcondra on the M1. We stopped at Lidl in Drogheda to purchase dinner and breakfast and some goodies. A game of charades helped to pass the time while dinner was being prepared. Then the Pizzas were ready and the students ate with relish. Kiah had written a table quiz and she and Izzy were the quizmasters. A good team, they skillfully handled the audience and quickly corrected the answers. The result was close.
Meanwhile Drew, Alex, Chris and Eduardo were gathering fuel for the fire under the starry sky. The warm fire welcomed the well wrapped-up students and all gathered round the leaping flames. It kept us warm on the cold starry night. Marsh mallows were toasted and eaten. Some were simply burned to a crisp. The stars were contemplated. "Tell me Joxer, what is the stars?" The North Pole, Ursa Major and Ursa Minor were speculated upon. Songs were sung including a the Anthems of JSS and Ireland. All seemed happy "A bono in bonum … Laetus impraesens."
Then it was time to go to our rooms – boys on the top floor and the girls on the second floor. Late to bed and early to rise. Breakfast and huge tidy up followed – brushing and bed making and washing-up and Eddie arrived for the journey south. There was frost on the grass and the golf courses were closed.
It was a good weekend which gave a chance for the students to get to know each other better and to share some activities.