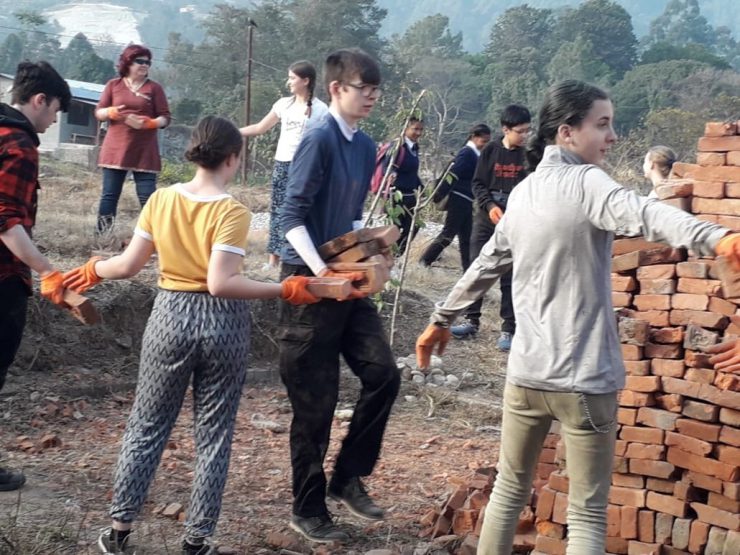 The Transition Year class of 2019 in John Scottus this year once again trekked half way across the world to a new destination for John Scottus School, Kathmandu and the wonderfully peaceful and calm country of Nepal. It was thanks to a parent in 5th year who put us in touch with the Charity Indreni that we were able once again to venture out for three weeks to teach and support the students of the Indreni Childrens Home in Sundarijal, Kathmandu.
Our teaching day began at the very leisurely time of 10am. We taught every day until lunch time after which we made our way to the second of two children's homes on foot. Most of our travel was by foot pacing between school, home, the canteen and to the childrens' homes too. We were charged by our caretaker and the visionary behind the charity Ram Hari with painting the walls of the childrens home and moving a brick shed from one location to another. We had our tea like builders mates every day at 4.30 at which point the evening activities took over and dinner, games and having full on raves in the TV room with the Indreni students until we couldn't stay awake any more.
The students had to keep to a fairly rigorous times schedule and they mentioned it to me on more than one occasion. But to be fair to them they rarely took sick days and put in a serous shift of work every day.
We managed to get up and back to the second school run by the charity, Simthali village school in the mountains during our trip and the views from there were breathtaking. The trip included a fairly hairraising journey up a mountainside and a 6 hour hike back down. Again, the students impressed on this too!!!
It was an unforgettable trip for the students and the three teachers, myself, Ms Franklin and Siobhan Launders. We owe a massive debt of gratitude to Kevin O'Sullivan and Ian Kingston for setting us up out there and to Ram Hari the godfather of Sundarijal and his henchmen Raju and Sailesh for taking such good care of us. Enjoy the photos!!!!
Mr Telford