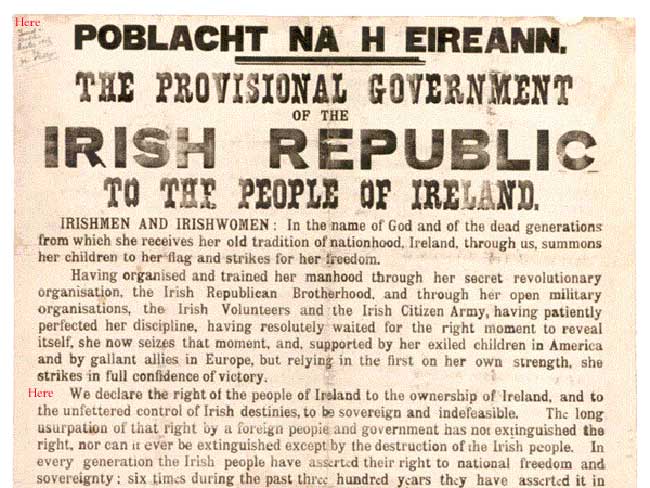 The History department have been working very hard to create awareness around the school about the events of 1916.
1. Three second year students were chosen to attend the presentation of the Irish flag on behalf of the school in Croke Park in association with the Thomas F. Meagher foundation . Student learned about the history of the Irish flag and listened to President Higgins speak about the relevance of the events of 1916 on today's society.
2. Classrooms and offices around the school building have been temporarily renamed to reflect some of the key buildings around Dublin that were occupied during the Easter Rising. For example the school office has been changed to the GPO, the lunch room has been renamed Jacobs's factory and the headmaster's office has changed to Kilmainham Goal. The 1st years were in charge of designing the posters for the different classrooms and offices and worked very hard to create some excellent pieces of art. This activity has allowed students to engage with and enquire about the events that took place around Dublin.
3. as part of the Ireland 2016 commemorative programme, the Department of Education and Skills has provided time for schools to commemorate and reflect upon the events of 100 years ago. March 15th has been dubbed 'Proclamation Day' for schools across Ireland. As part of the celebrations, the school came together to celebrate. Mark Mulvey from 3rd read out the original version of the proclamation, Damien Collins from 6th year, gave a short speech about Thomas F. Meagher, Mr. Kerr conducted the school in signing the national anthem.
4. Miss Swan's 2nd year History class have spent this week exploring, in detail, the events that took place across the city, the reasons for it and the impact they have had on the country. Students have really engaged in this topic and have been asking lots of questions and have been active in some of the events taking place outside of school.
5. Miss Reynolds on behalf of the English department has been working on developing students English skills by asking them to rewrite the original proclamation for 2016. This has been a very challenging but rewarding task for students.