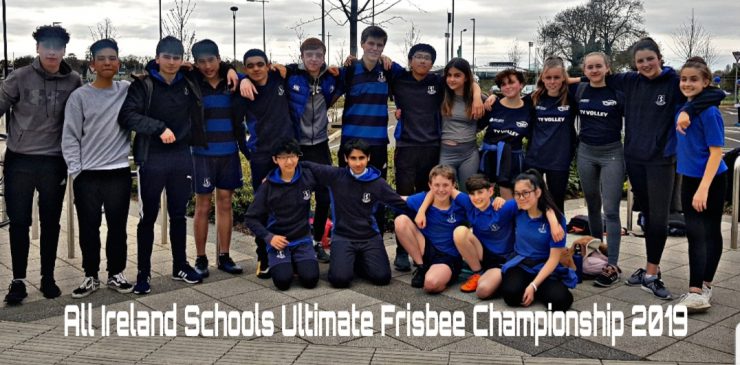 On Thursday the 21st of March we had three teams competing at the All-Ireland Schools Ultimate Frisbee Championships which were held in the National Sports Campus in Abbotstown. It was a busy day which saw over 42 teams compete in over 105 matches.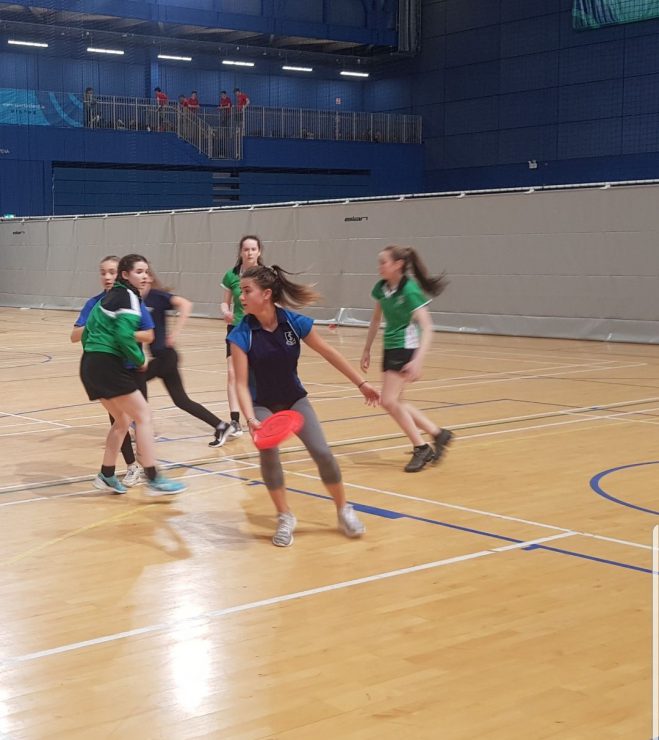 The first team to sample the atmosphere of the National Sports Arena were the Juniors, Gabriel Mullins, Euan Gallagher, Anthony Adewuyi, Eric Yun, Anun Yosakorn, Nina Braswell, Kara Le, Taly Wallensky and Vishal Bharghav all took to the stage. The Juniors dominated their first game, winning it easily, which resulted in high fives all-round. The second game proved to be a little tougher with the JSS Juniors on the wrong side of the score board which showed 9-6. The last group match was a titanic battle against St Fintans. Both teams put together some outstanding pieces of play that had the entire arena on its feet. The game finished 8-8 which meant it had to continue to extra-time, the first team to score in extra time would be the winners and march on to the quarter finals. Unfortunately, St Fintans managed to get the all-important score which saw them progress. The Juniors played two more games on the day winning both which placed them in 7th position from a total of 15 teams.
The Senior boys were certainly talking the talk before their first game, all they needed to do now was walk the walk. Nathan Bossier, Jack Brunton, James Mungavin, Hoang Tung, Robert O'Brien and Edward Yun all lived up to their own hype by winning their first game. Next up were Dundalk Grammar School who were a big and powerful team. The JSS boys may have been a bit intimidated at the start as they failed to claw back an early lead given to Dundalk, the game ended 8-5. The boys played 5 games in total winning 3 out of the 5 games which saw them finish in 6th place from a total of 12 schools.
The senior girls were probably the most nervous on the day, Jessica Spratt, Julia Ivanova, Sasha Beatty, Delfine Ryan who were also helped by Nina Braswell, Kara Le and Taly Wallensky all took to the courts. The girls got off to a shaky start but battled back to take their first game 9-6 against a very good Santa Sabina College team. The girls were now growing in confidence with Julia Ivanova proving to be a real handful for the opposing teams. Like the senior boys the girls played 5 games in total winning 3 out of the 5 games which saw them finish in 7th place out of a total of 12 schools.
Well done to all the participants who showed tremendous sportsmanship and represented John Scottus excellently the entire day!