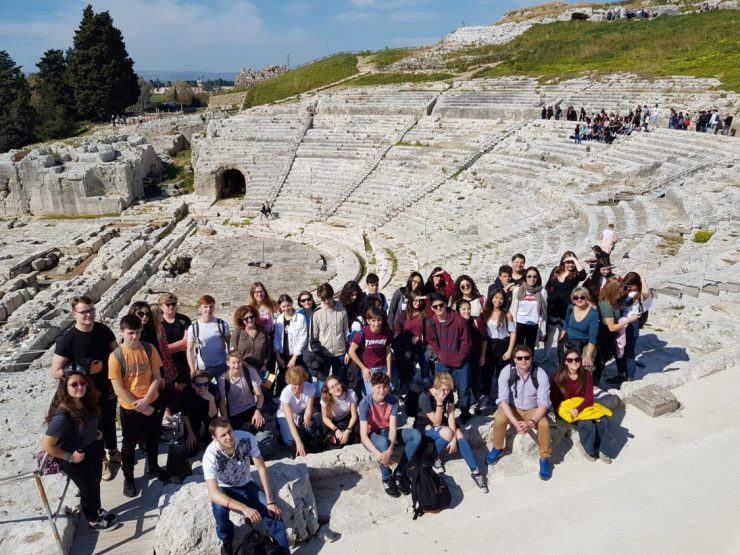 Day 1: We arrived at Catania airport and were collected by our host families. Sarah and Tove went to a carnival festival in the town and Kaiya, Jack, Zach and James went to get pizza.
Day 2: Everyone went to a town called Açaí Castello. Jack and Zach went swimming while the girls went to eat lunch. James went to a party for a family member of his host. Later that evening everyone went to Jack's house to watch the Juventus and Napoli match. We got introduced to all of the Italian people as well as some of the other exchanges. It was a really fun evening.
Day 3: This was our first day of school. All 36 exchanges from Sicily, Latvia, the Netherlands and Ireland took part in presenting our Human Rights projects. We got traditional Sicilian food for our lunch before going to a Benedictine monastery which had been renovated into a university. After this everyone parted ways and we met up later. All 36 students met up later to have dinner. It was a really nice evening and we went for a walk afterwards.
Day 4: On Tuesday morning we met at the school at 9 o'Clock. There, we did a presentation on migration and the immigration problems in our own countries. We also watched a video made by the Sicilian students in which a representative from an NGO was talking about his view on migrants and how they are discriminated against in their own countries and also in Europe. After school, we went on a tour of some of the historical sites in Catania, including a castle, an amphitheatre and a cathedral. Next, we visited an immigration centre called 'Civico Zero' where we met migrants who came on ships to Sicily from North African countries. These migrants go to this centre every day for Italian and English lessons and for counselling and support. We spoke to them and played some games with them in the centre. It was a really heart warming experience for us all and really opened our eyes in relation to how lucky all of us are. In the evening, we all met in a restaurant before going back to our different houses.
Day 5: We met at piazza spezzia. We went off to Siracusa. We saw a Roman and Greek amphitheatre, and a Roman road and the catacombs. Then we saw The Orrichio Didonsio which is a cave shaped like an ear, Orrichio was a tyrant who had his cave shaped like an ear so he could hear everything and if a slave inside moved during the night he would kill them. We then went out for coffee and tried orancia which is a red orange juice and it was deadly. We then went to Ortega, and had lunch and saw the coast line and the city and saw a Caravaggio painting. We then returned home and later went out for dinner and saw the United vs PSG game in an open air showing.


Day 6: We all came together to make a globe with all the pictures in it of what we had done on the trip so far. The mayor of Catania then came to view the globe and speak to us. We finished at 12.45 and our exchange students brought us paint balling where the Irish students beat the Italians 10-1. In the evening, all 36 students and the teachers went out for pizza as a goodbye meal.


Day 7: We went to see mount Etna and walked around the craters. We then went to a beautiful town called Taormina and ate lunch there.
Day 8: The Dutch, Sicilian and Irish students met for breakfast and went to the park. Then a few of us went to have lunch together before going to the airport. Everyone was sad to go because we had an amazing time.