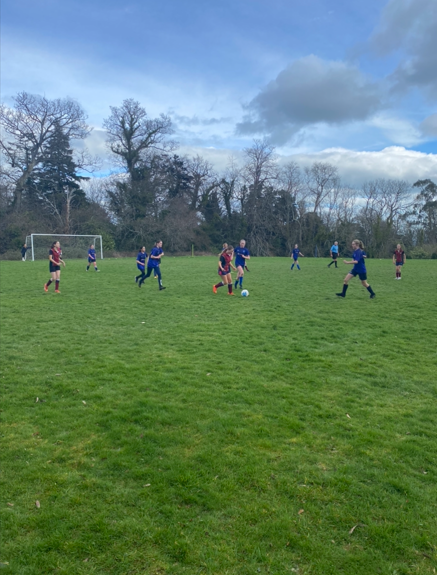 Our girls continued their league campaign against LFI College et Lycee in UCD. Lycee scored early in the first half with a well-taken goal. Our girls rallied, and the rest of the half was a very tight affair with good chances from both sides. Zoe Van Den Bergh produced a lovely finish when she raced through on goal, but unfortunately, the referee ruled it offside. The second half remained a tricky and tight affair. Two late goals for Lycee saw them run out as winners.
On March 21. the JS girls welcomed Loreto Dalkey to play a Junior girl's match. After a strong start, the girls started to run out of steam, and Dalkey began to get on top halfway through the first half. The girls found themselves 4-1 down at halftime. A well-finished Zoe Van Den Bergh goal kept John Scottus in the game. The girls' much improved second half saw JSS take control for most of the second half. A hat-trick from Milly Fisher meant that the game finished up a very tight affair, with Loreto Dalkey just coming out as 5-4 winners on the day.
Our Junior girl's Soccer team continues to train after school on Wednesdays and at lunchtime on Mondays.