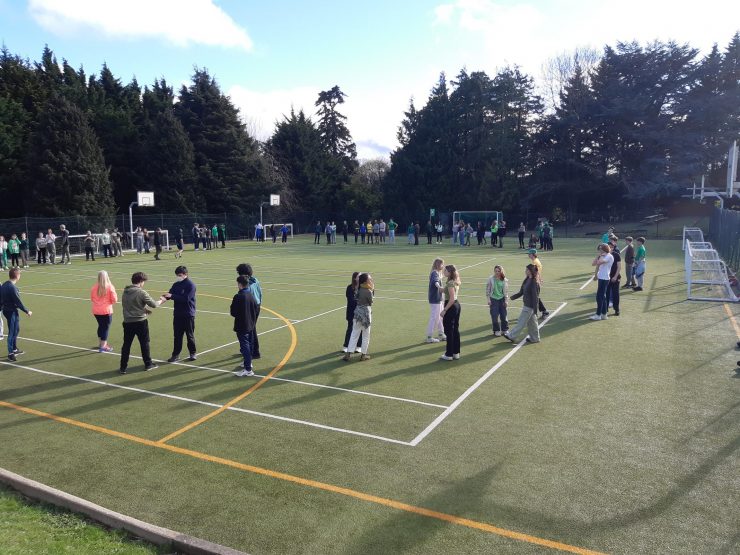 Rinneamar ceiliúradh ar Sheachtain na Gaeilge an 13-16 Márta. Seachtain na Gaeilge is a national 17-day long festival highlighting our national language and culture, which we celebrated in John Scottus over four days.
Given the recent success of Irish language films, students were treated to viewing of An Cailín Ciúin and Róise agus Frank. 3rd year students enjoyed a trip to The Mermaid Theatre in Bray, while 1st and 4th watched the movies in class, and 2nd Year students viewed both in our weekly Irish language movie club, Club Yu Ming.
Chuir Daisy Tyner and Anahita Aryan tús leis an tseachtain leis an tionól a rinne siad. Daisy Tyner and Anahita Aryan presented the first bilingual assembly of the week, posing the question of who was willing to put Gaeilge on their radar for the week.
Ar an Máirt, ghlac daltaí an Dara Bliain an príomhról sa tionól. On Tuesday it was the turn of the 2nd year students to present a bilingual assembly, with Orla Tyrell, Aisling Gillen and Alex Buckley presenting a video review of movies watched in Club Yu Ming. Go raibh maith agaibh to Katie Ashmore, Keelin Doyle, Ben Ashmore, Afshin Aryan and Corin O'Leary who spoke about their favourite Irish movies.
Chabhraigh daltaí na hIdirbhliana le Tóraíocht Taisce a eagrú ar an Máirt. 4th years were a wonderful help in organising an Irish language treasure hunt for the enjoyment of all 1st year classes. After some rain showers, and a lot of puzzle-solving, Felix Hodge-Doherty, working with Naoise Fitzmaurice finally cracked the code and won themselves some Easter goodies! Leah Pallas and Sophia Kahn, Edward Cormack and Arthur Peregrine came in 2nd and 3rd places, respectively.
Mr Brady surprised many of the Junior students on Thursday morning with his bilingual presentation in the assembly. He gave food for thought on the origin of many Irish words, none of which were Maths related!
Chun críoch a chur le Seachtain na Gaeilge, bhí Lá Glas againn. On Thursday, we took to the Astro-pitch to dance a céilí, with everyone decked out in green clothes. From the Dowling School of Irish Dancing, Claire Dowling led the céilí, which all students and teachers enjoyed.
Mar a deir an seanfhocal "Beatha teanga í a labhairt".