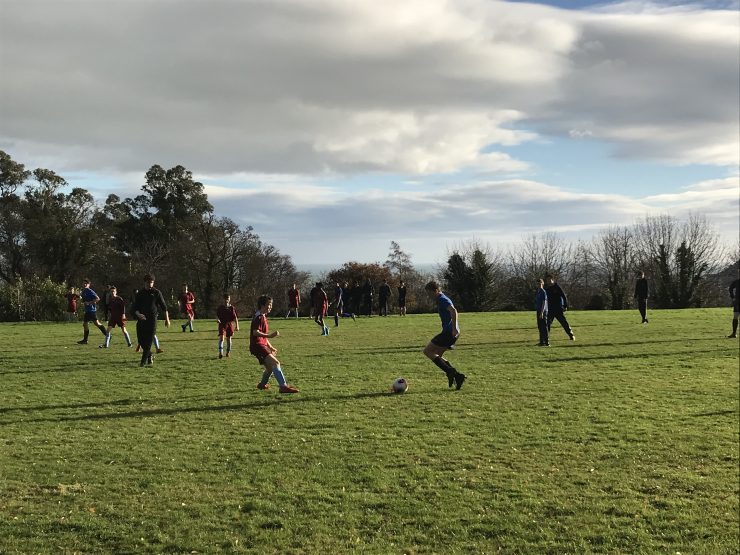 The John Scottus Senior and Junior teams got their seasons off to winning starts with two strong victories against Stratford College Junior and Senior teams. Both fixtures were home games for JSS and they proved to be very enjoyable spectacles for students who got the opportunity to come out and support their fellow classmates. 

It was the John Scottus Junior team who played first and they got off to a great start when Euan Gallagher Doyle gave JSS the lead after five minutes. A younger Stratford side found it difficult to contain the John Scottus team and at half time the score was 5-1. Two goals from James Dunne and a tremendous free kick from Adam Free being the pick of the goals. Stratford rallied after the break and came more into it in the second half but they struggled to break down a solid JSS defence. They game finished up 9-2 with Anthony Adewuyi getting five goals for himself in a great performance. 
The John Scottus Seniors played their fixture immediately after the Junior match and this proved to be a much tighter affair. After going two goals up in the first fifteen minutes the JSS Seniors found themselves very lucky to be 3-2 up at half time. Two goals from James Woods and one from Christian Madden just about keeping the JSS team in front. The second half continued to be extremely tight with both teams finding it difficult to create chances. As the second half wore on the game began to open up and that is when the JSS team began to pull away. Goals from Jack Bruton and Shunri helped their team to a 7-2 victory.