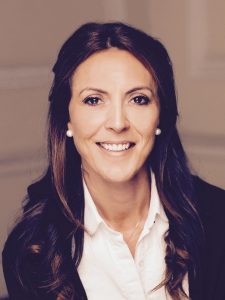 John Scottus, Class of 1996. Joint Head of Consumer, Wilson Hartnell Public Relations.
Elisabeth studied Economics and Sociology in Trinity College Dublin and went on to study Public Relations. She spent time working with the 2003 Special Olympics World Summer Games and is now Joint Head of Consumer at Wilson Hartnell Public Relations in Dublin.
So, what did you do after you left school?
After school, I studied Economics and Sociology in Trinity College Dublin, and then Public Relations.
My first job after college was a fortunate twist of fate. Having planned to pursue primary school teaching in the US, a visa processing delay saw me studying PR at night. At the same time, I started volunteering with the Marketing Team on the organising committee for the 2003 Special Olympics World Summer Games, the largest sporting event to take place in Ireland. This turned into a full-time role and was one of the most rewarding experiences in my career, working with a team of incredible people who are lifelong friends.
Did you like going to school?
I was very happy in John Scottus School and attended from the ages of 7 through to 17. So many memories stick with me from my time in school.
What were your main interests?
Public speaking featured a lot in the final years of senior school and myself and Pamela Selby (Carroll) faced all our fears as we took part in plenty of opportunities for debating and public speaking. Mrs Telford would probably say my main interest was trying to find a way to make trouble! Between our studies, sport and extra-curricular activities like debating, we were given the opportunity to develop a range of interests.
What are your main memories from school? What has stayed with you?
My friends. At the time, small class sizes would have been rare and you couldn't get away with anything (although that didn't stop us trying!). My class of four from John Scottus are still some of my closest friends. We only recently marked our 20 years out of school with a trip to the South of France, a fantastic few days with great friends!
The school trips also stand out. We did plenty of trips in the blue van. I especially loved the holidays spent on the beaches of Donegal with eventful sailing trips. Sports days would not have been my time to shine. I left that to the more athletically gifted, but I still remember them.
I adored the plays we put on each year, particularly so when they were Shakespeare. I was delighted to play Titania in Midsummer Night's Dream. While I wasn't so fond of the choir practice, I think we all enjoyed joining St James in London for Mozart's Requiem, the music of which is still a favourite of mine.
I think like many of my classmates, practices like pausing and mediation are ones that you carry through life and I'm grateful that we were introduced to these through school.
Are you appreciative of your education in John Scottus School?
There were a lot of differences between John Scottus and other schools at the time: the uniform, the subjects on offer, the lunches, the pause, meditation, class sizes, the sports we took part in…even our little blue school van!
At the time, like any teenager, I didn't appreciate these differences, but today I am so grateful for them. In terms of academics, while the subjects on offer at the time appeared to me to be a constraint, I appreciate now that they were subjects that were designed to prepare students for life rather than just a career. They gave us an opportunity to understand people rather than just commerce.