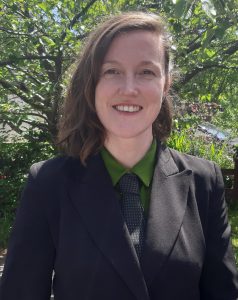 John Scottus Class of 2002. Deputy Principal, John Scottus Secondary School, Old Conna.
Eva studied English and Theology in Trinity College. She went on to do a Masters in International Peace Studies and later trained as a teacher in UCD. She has worked in South Africa and Australia as a facilitator and teacher. She returned to Ireland in 2016 and took up the position of Deputy Principal of John Scottus Secondary School in Old Conna.
So, what did you do after you left school?
I did a degree in English and Theology in Trinity College Dublin and a Masters in Peace Studies. I also worked part time in John Scottus Primary and Secondary schools as a music teacher. I took part in lots of different things in university, including djembe drumming, Saint Vincent de Paul and Lucca Leadership.
Then I moved to South Africa, doing workshops on self esteem and child protection using drumming. I briefly came back to Ireland to train as a teacher, and then moved to Australia for six years where I taught English in a big public school. There was a lot of freedom there as a teacher, so I did campaigns on HIV, anti-homophobia, equality and multiculturalism.
When I moved home, I returned to John Scottus School and took up the position of Deputy Principal just as the school moved to Old Conna. And here I am.
Why did you come back to JSS?
Having worked abroad for so long, it felt like a really great time to be part of John Scottus as it began its new journey. I also missed working in a school with an ethos like John Scottus. I love that there's a part of our day where we are all able to stop, and regather ourselves.
Teaching seems to be a big theme throughout your career. Did you always want to be a teacher?
I think I've always been a teacher. Even as a child, I could see what needed to be said to help people understand. I first began teaching during college. Then I moved towards facilitation, working with RedZebra, Lucca Leadership and Dance4Life (a HIV campaign). This was vibrant, but what made me happiest was teaching poetry in the townships. So when I came back from South Africa, I decided to train as a teacher and see where that took me next.
What was your first job?
I worked as a gardener in Beech Park walled garden for two summers. During TY, I also did work experience in the National Botanic Gardens in Glasnevin and Armagh observatory.
What would you say is important in choosing a career?
I feel it's really important to know what you love and know what your strengths are. But it's also important to try things. I've done over 30 jobs, paid and voluntary. I've taken every opportunity I could and learnt a huge amount about myself and other people.
What were your main interests in school?
I think I loved every subject in school. When it came closer to Leaving Cert it was hard to make choices because there were a lot of things I could go with. This made it hard to choose what I wanted to do. I studied Physics, Chemistry, Higher Maths and Biology. But I also did Latin and Greek and I loved English. I kept both sides of myself going.
Did you like going to school?
Yes, I did like going to school. I liked my friends, my subjects and my teachers. Susie Spratt in particular, shook things up for the girls. It was great to have a young female teacher to inspire us. With Susie we started singing new things, going to new plays, hearing new stories. I had a great relationship with all of my teachers. In fact I still work with some of them.
What was different about JSS?
Back in the 90s, pausing and meditation was very different, and hard to explain to people. The fact that our school was a Georgian house rather than a normal school building also made us different. It was also a classical education, with a focus on teaching Sanskrit, Latin, Greek, Shakespeare and Mozart.
Did you find pausing and meditation useful?
I don't know if I fully valued it as a child. We often laughed at the teacher with their eyes closed in front of us! But I do remember going to events in other schools and it feeling strange when we didn't pause. Now I find I really need it. For me, pausing is taking a moment before I restart, whereas I see meditation as practice in stilling my mind for longer periods.
What are your main memories from school? What has stayed with you?
The trips stand out. I remember the camping and hiking trips. Townley Hall also features hugely in my childhood memories. We also went on many overseas trips to Pompeii, Andorra, Stratford, Chartes.
My friends have definitely stuck with me. I have great friends from my school days. We're all busier now and spread out over the world but we still meet up as often as we can. We're life friends.
Music also features in my memories. My class was very into music. We still are. We'd come into school at 7.30 every morning. Tuesday was choir, Wednesday was orchestra, Thursday was madrigal.
Our motto 'Delight in the present' has also stuck with me. To me it means you can be happy right now. You can observe your thoughts and feelings and know they will pass.
I suppose confidence is another thing that's stuck with me. JS gave me opportunities to speak, argue and perform. I have absolutely no problem doing those things, in work or personal hobbies. It's similar with all of us really.
I remember the responsibilities we had. Every year at Art in Action, we worked for three days making pancakes, setting tables for a hundred people. We have such joined memories of responsibilities that were unusual for children to have. I think as a result of that, I certainly feel that we could try anything.
Are you appreciative of your education in John Scottus School.
I'm really glad that I got an alternative, classical education. The lines from Shakespeare, the Sanskrit prayers, they all come out at random times because they're in my brain and in my heart. The whole idea of giving people the best when they're young – it certainly does stay there. Even if you don't fully understand it at the time, you don't forget it.