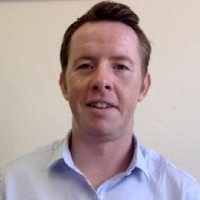 John Scottus Class of 2000. Co-founder, Sports for Learning, California, USA.
Nick studied Sports Science in Dublin City University and became a Science and PE teacher. Nick emigrated to California, where he initially ran children's summer camps and later co-founded a company that teaches STEM principles and sports.
What are you doing now?
I'm running a company in the US. We provide an integrated educational sports programme that teaches students STEM [Science, Technology, Engineering and Maths] principles based on a framework of positive behavioural interventions and supports. I set it up with Chris Murphy in 2012, another JS alumnus. It's called Sports for Learning. We pooled expenses and started a company in California and found a niche market; schools needed support during the school day and we found college athletes to meet that need.
What kind of school did you find JSS?
I think the biggest benefit was to have the same group of friends from 4 to 18. I could make the same point in terms of staff. It provided friendship and solidity. There's a lot to be said for not shifting from class to class. I'm still in touch with about 80 percent of them.
What were your main interests in school?
I was always interested in sports. My favourite time of the day was break-time and lunchtime. We used to sprint down to Herbert park to play a maximum of 20 minute game of soccer. There were nine or ten of us that played really memorable games of football.
And what about science?
It wasn't on my radar as a kid. I suppose I got an interest after the Junior Cert. Dad was probably influential in that. I liked Biology, English, Latin and the classical curriculum. I'm glad I got that. It really differentiates you in the workforce to have the familiarity with that sphere of education.
And what were your interests after school?
Sports, mainly! All I remember looking at was degrees that had sports in it. I found a handful – five – that had it. My first choice was PE and teaching in Limerick. My second choice was sports science in DCU. I got my second choice and I am glad it worked out that way.
What was your first job?
Chris and I started a little enterprise called Crystal Valeting Services when we were still in school. We would clean and detail cars every Saturday. During college, I spent my first two summers coaching soccer in the US. I spent third year in the FAI. I was the first person they took on as an intern. I couldn't believe how lucky I was. The following year I went back to coach soccer with Chris. We decided to set up our own soccer camps. Once I graduated from college in 2004, I applied to do my post-grad in Ulster University but I did not get accepted and therefore, I didn't have any choice to make between staying in Ireland or travelling to the US with Chris to start our business.
Chris and I spent 3 years running our Summer camps in the US and laying the foundation for what was to come in 2012. However, between 2008-2012, I went back to live in Ireland and did my Graduate Diploma in Education in DCU and qualified as a Science & PE teacher. I taught in JSS for 3.5 years. Simultaneously, Chris got his MBA from Smurfit School of Business.
What influences from JSS have you carried with you through to today?
I think one influence was confidence. I'm not sure whether school or family influenced me on this most. We always had this optimism to do stuff and figure it out after; to what you want with the confidence that things will work out. I also meditate on a regular basis.
School trips all around Ireland and later to England, France and Germany, definitely stick in my memory. I suppose resilience was a big legacy of that. They were mainly led by Kevin Dechant and Gerard Reid. I remember camping on an island and staying in tents that blew down and being soaking wet. We went on hikes with big rucksacks with friends in my class. It toughened you up and gave you grounding.
My classmates were also a good influence. We were from quite different backgrounds. They were realistic and grounded, and didn't have the feeling of being greater than anyone else. We didn't feel very entitled.
We worked very hard and it paid off. I suppose another quality was resourcefulness. Those trips helped with that.