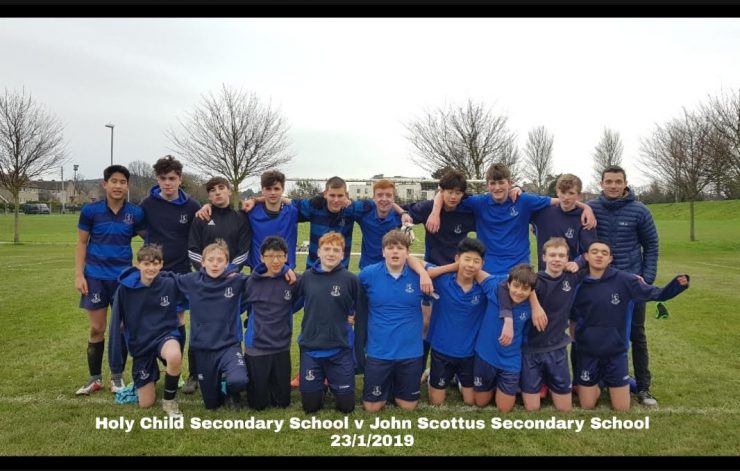 On Wednesday the 23rd of January the JSS soccer teams travelled to St Joseph's Soccer Club and competed against Sallynoggin Secondary School. The home started the quicker and were 1-0 up inside the first 10 minutes. Things got worse for the JSS lads 5 minutes later when they again found themselves picking the ball out of their own net. Things could have been worse if it were not for the deadly duo of Euan Gallagher and Gabriel Mullins fine defensive display. Ciaran Chang pulled off a flurry of saves in the JSS goal who was also helped by Anthony Adewuyi goal line clearances.
The next 10 minutes belonged to JSS with both Leo Font, James Greene, Eric Yun and Adam Greene all going close. JSS were made to pay for their missed chances on the half hour mark, when the home side netted there 3rd goal of the game. Despite some excellent defending from Otis Doran and Saul Higgins and Anun Yosakorn, Sallynoggin netted their 4th gaol of the game to go in at the break 4-0 up.
The second half started at a frantic pace with Christian Madden and Jack Brunton causing all kinds of problems upfront. JSS were well on top and netted there first goal of the game when James Woods found the net with a cleaver finish. Things got better for JSS soon sooner after when Madden used his lightening pace to found the net. Nathan Bossier, James Mungavin and Tom Haughey were now all dominate in the backline. Oscar Yu was finding space in the middle third of the pitch and managed to find Madden you netted his 2nd and JSS 3rd goal of the game. The game was all square sooner after when Jack Brunton scored the goal of the game with a speculator lob from just outside the box to send both teams home with a share of the spoils.