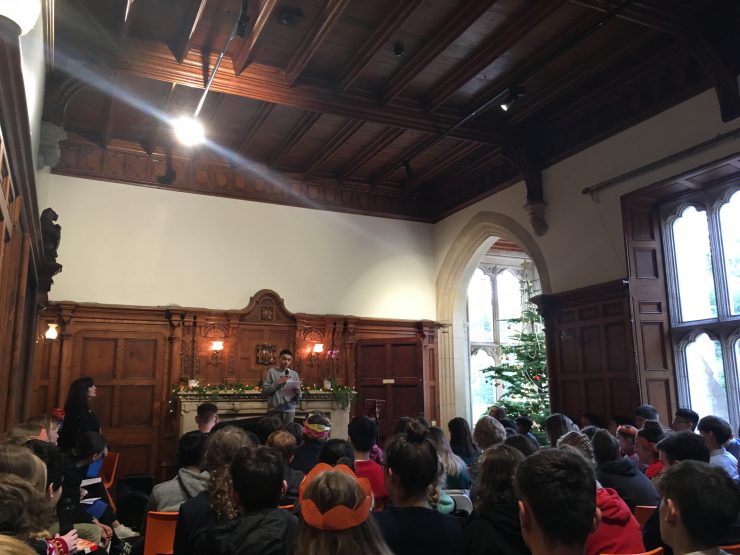 John Scottus School prides itself on the ability to encourage students to express ourselves and to engender reflection on the possibility for change and development in our lives. This principle was fully in action and clearly conveyed in our Literacy Week and Annual Speech Competition which took place in December 2018.
Literacy week focused on the need for truthful expression and the love of ideas and included 'Dress up as your favourite literary character' event, specific time for reading throughout the week and an inspirational talk by Sarah Clarke a lawyer from Pen International, an organisation who work for the protection of rights for the voice and safety of Journalists worldwide.
On Thursday December 20th we all gathered in the great hall to be entertained and delighted by the thoughts, ruminations and observations of our great and brave students for our annual Speech Competition. The speeches were diverse and gave us an insight into issues and concerns the students had in many areas such as Palm Oil (by Anahita Roise Aryan in  First Year who came second ) ,Why the world  is a better place than we think it is  (by Grace Cunnane from Third  Year who was awarded third place) and The Importance of Failure (by Anthony Adewuyi from First Year).Our two Second Year contributors discussed matters relating to The Disadvantage of Robots (by Stephen Murphy) and The flaws with our Education System (by Colm Woods) . Our T.Y students examined Is it already too late? (in relation to Climate Change by Luke MacInnes Keane) and Music and the Effect it has on Me and Other People (by Nathan Bossier). The Senior Cycle students examined topics ranging from The Meaning of Life (by Faolan Doeke Launders in Fifth Year) which was awarded Highly Recommended and both Sixth Year students won second and third prize for their speeches on, Clean Eating (by Aisling Spratt who received second prize) and The Necessity for Nonsense (by Mark Mulvey which came third).
Our two winners were Caitlin Doecke Launders (from Third Year) who was awarded first place in the Junior Competition with her speech on Why we all should remember Armistice Day and Kaiya Reddy (in Fifth Year) raised the wining Senior plaque for her speech on The Difficulties of being a Teenager.
The Judges, Mrs. Mary O'Connor, a past member of the teaching staff and Ms. Lynne Swan, a journalist with the Sun Newspaper, all praised the high standard and level of commitment each participant gave.
During the interval, two fifth year students took to the stage, one singing and one on piano, and had all students and staff fully entertained with their powerful voice and musical talents. Thank you to Maria Colfer and Edward Iakab and to Mr. Kerr (their music teacher) who helped them in their preparations for the event.
A thank you needs to be given to all staff, judges and students who helped to make this event truly great.
All participants were fantastic and deserve fervent applauds. Their determination, triumph over fear and reflective abilities are all aspects of a winner.
Overall it is, was and continues to be, without fail, an inspiring event in the school calendar.