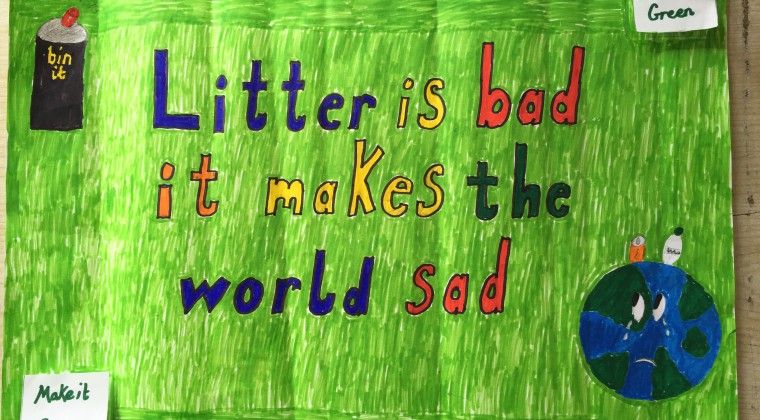 GREEN SCHOOL 2018 
ENERGY
This year (2018) we have taken on the challenge of successfully obtaining our 2nd Green Flag.
Energy is the second theme that schools undertake. This theme looks at the steps which can be taken to reduce energy consumption and raise awareness of climate change issues.
Our Green school Committee has been busy so far this year collecting and collating data about our energy use in school. Take a look at this informative Power Point they have put together with the results so far!
GREEN SCHOOL 2017 
LITTER & WASTE
This year (2017) we have taken on the challenge of successfully obtaining our first green flag to become a Green School. Green-Schools, known internationally as Eco-Schools, is an international environmental education programme, environmental management system and award scheme that promotes and acknowledges long-term, whole school action for the environment.
The first flag is awarded for focusing on the theme of 'Litter and Waste'. There are 7 steps to be completed in our application process. Please look at our Green School Action Plan and see all of the exciting environmental occasions we have in store.
For more information about Green Schools please go to http://www.greenschoolsireland.org/
RESULTS FROM OUR INITIAL SCHOOL LITTER AND WASTE SURVEY
SOME POSTERS FROM OUR RECYCLE AWARENESS CAMPAIGN
NATIONAL SPRING CLEAN DAY– Cleaning the banks of the River Dodder
RECYCLED GOODS FASHION SHOW
On Wednesday afternoon we had our Green School Recycled Goods Fashion show in the back yard.
There were some fabulous outfits and accessories designed by the children and were displayed with serious strut on the cat walk.
Every class walked down the catwalk to their own song as they displayed their outfits.
Bins were surely emptied all over the city to accommodate our fabulous fashion show.
Have a look at a selection of our original designs.
HERE IT IS! THE WAIT IS OVER! WE HAVE OUR …….. GREEN SCHOOL CODE!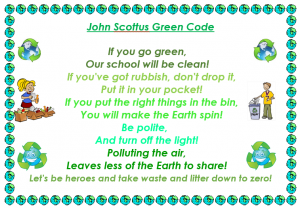 Here are some entries for our Green Code Poster Competition.
GREEN CODE POSTER COMPETITION WINNERS