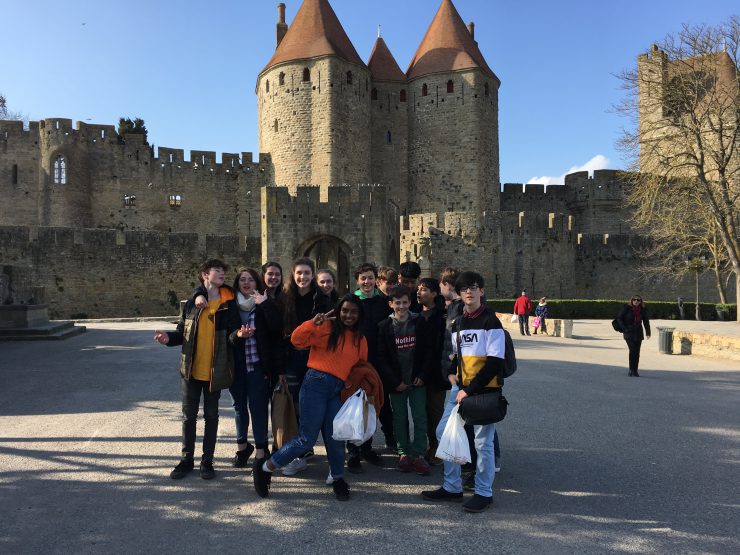 On Saturday, 17 February 2019, 14 students from 2nd and 3rd year travelled from Dublin to Toulouse with Ms Barnes (a parent who very kindly volunteered to accompany us) and myself, Mrs Kinlay to experience a French Exchange with Collége Jean XXIII in the small town of Pamiers. This was John Scottus' third trip to Pamiers and they were delighted to welcome us back to the school.
The host families and teachers met us at Toulouse Airport. The sun was shining and the temperature reached 20 o Celcius. The students were whisked off to visit Toulouse and the surrounding areas. On Monday morning, we visited the medieval market town of Mirepoix where we enjoyed tasting
some local delights, including snails, and some shopping. We had lunch at the school canteen -very different from our lunch room! In the afternoon, we had class for three hours. We visited the younger classes in groups and tried to impress them with our musical skills. Tuesday was spent in the old walled city of Carcassonne. We had a tour of the city and ramparts and enjoyed a picnic in the sun. On Wednesday, it was school for the half day, then most of the students went bowling with their French Exchange students.
On Thursday, the French students accompanied us to visit La Grotte de Lombrieves. Considered for over 30 years as the largest visited cave in Europe, it will amaze you with its geological wealth and the historical heritage it contains. Long glacial periods have shaped this incredible karstic network. The spectacular size of its galleries and the formation of the rock have made it a place of refuge, wonder and contemplation for men for centuries. Lombrives is a preserved site as it has been for thousands of years. It was incredible. At one stage our tour guide turned out all the lights so we could experience the absolute darkness. It was very disorientating. We asked him to do it again!
On Friday, the morning was spent in Foix, a nearby town and the capital of the Ariège region. Home to a magnificent castle , Le Château de Foix, which stands high above the narrow cobbled streets. Unfortunately for us, the castle is undergoing restoration so we were unable to visit. On Friday evening, the school hosted " une auberge espanole" for us (pot luck dinner). All the host families arrived with food and drinks to share. The Irish and French students sang together and the teachers and headmaster, Monsieur Milliard made some moving speeches. Everyone agreed that the week had been a great success and that we all hope the French Exchange will continue for many years to come.
The students spent Saturday with their French families, enjoying different activities and outings. There is so much to do and see in the Ariege region. The snow-capped Pyrenees are always in view. One of our students wondered how we are going to occupy the French students in Dublin so well. We departed early on Sunday morning (well, most of us- thanks to Aer Lingus. 3 of us got to enjoy Toulouse for another day!). We are all looking forward to welcoming the French students and their teachers, Mme Fori and Mme Beausor to our homes and school on Wednesday 3rd April- Wednesday 10th April. This will be their first time to visit our new campus and they are very excited. Be sure to give them a good Irish "Bienvenue à Old Conna."