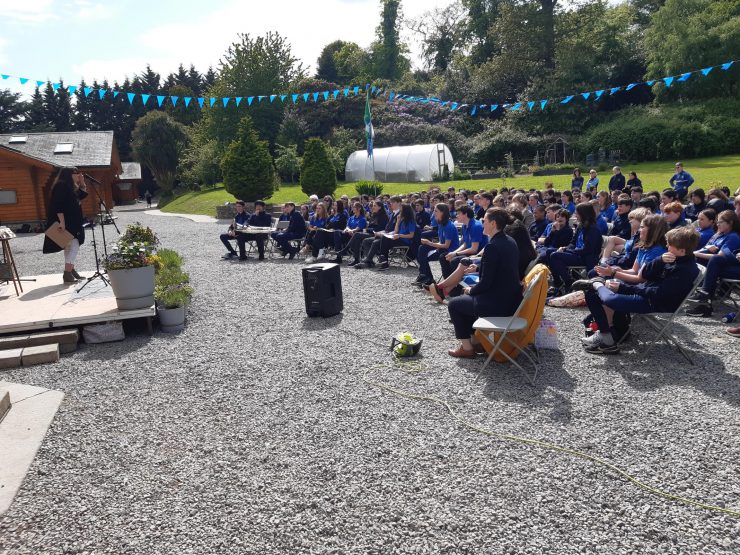 John Scottus School prides itself on the ability to express ourselves to engender reflection and the possibility for change and development in our lives. This was seen in abundance when our students presented their heartfelt and reflective speeches at our Annual Speech Competition.
On Thursday, May 18, we all gathered, united in the warm glow of the summer sun, to be entertained and delighted by the thoughts, ruminations and observations of our great and brave students. The speeches were diverse and gave us an insight into issues and concerns the students had in many areas.
Our Junior Competitors (first to third year) raised issues such as: "Is the Irish Health Care System Failing us?" by Layane Didani (first year), "Four Things that have changed the world and peoples' lives" by Riley Peters (first year) and "Monsters" by Leon Liston (second year). Iona Murnane (second year) with "Why every child in the world should have access to playing sport" achieved third place in this year's Junior Competition. Our first and second place prizes were awarded to our third-year participants Will Keating who came second for his speech on Technology, and Adam Maguire, who persuaded us that in time we might just be voting for him with his winning speech "Why I should be Taoiseach".
Our Senior competition comprised of topics such as: "Dyslexia, A Super power" by Jodie Mc Gonigle (sixth Year), "The Importance of Climate Optimism" by Anahita Aryan (fifth year). Third prize was awarded to Yusra Didani (TY)for her speech on "The Importance of Representation in Film and Media". A fellow TY student, Gina Papadimitropoulos achieved Second place for her take on "Heroes and Villains", and the winner of the Senior Competiton was our outgoing 6th year Head Boy Nickolas Buksha for his philosophic and reflective speech entitled 'Beauty in the Imperfect'.
The judges were, Mrs Mary Telford, a founding member of John Scottus Schools and the former English teacher of both Ms Franklin and Ms Maguire Timmins, and Mr Leo Maguire, a past pupil of the John Scottus Primary school and current student of English and creative writing at University College Dublin. Both judges praised the high standard and level of commitment each participant gave.
A special thank you needs to be given to all staff, judges and students who helped to make this event truly remarkable. All participants were fantastic and deserved fervent applause. Their determination, triumph over fear and reflective abilities are all aspects of what a winner is. All in all, it is, was and continues to be, without fail, an inspiring event in the school calendar.