The catering team strive to develop a range of ideas and dishes that are attractive to our pupils. The goal is not only to persuade pupils to eat but also to enjoy a balanced, nutritious, full flavour vegetarian diet while at school.
All food is freshly prepared. Our hot lunches are provided by an excellent External Catering Company and heated in our school kitchen.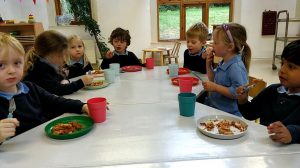 Mealtimes at John Scottus are more than just physical nourishment: they are another opportunity to develop a strong connection between pupils and their teachers. Morning break and lunch provide opportunities for children to learn to serve each other, to enjoy meals free from rush, to converse with each other and to help tidy up.
Food Allergies & Intolerance are accommodated
Please click here to view our December Snack Menu
Please click here to view our December Lunch Menu.