Mealtimes are more than just physical nourishment and are free from rush.
Children learn to serve each other, to converse with each other and to help tidy up.
Children enjoy a balanced, nutritious,  vegetarian diet. Our snacks comprise fresh fruit, wholemeal bread and crackers. Our hot lunches are provided by the Secondary School Catering team.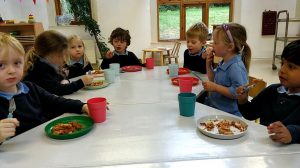 Food Allergies & Intolerance are accommodated
Please click here to view our recent Snack Menu
Please click to view our Daily Lunch Menu