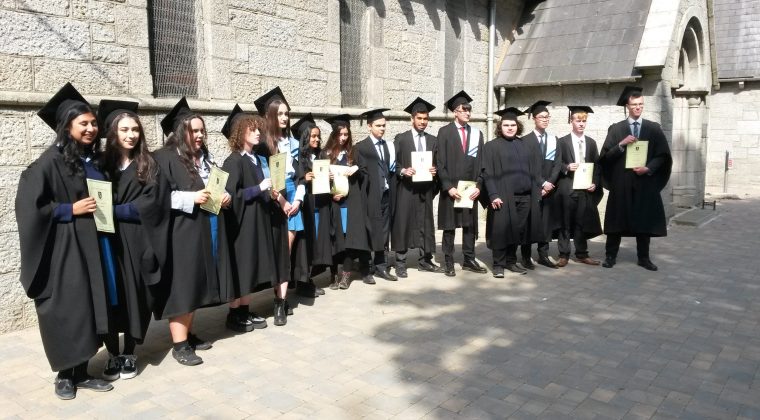 The mission of our new Academy Programme is to empower our Senior students to excel by providing exceptional personalised support for them at this time in their academic career. It is our belief that by only focusing on the particular strengths and needs of each student, will it be possible to maximise his or her academic performance. To this end a personalised mentoring programme is being put in place. The role of the Director of Studies for 5th and 6th Year is to direct the academic work of the Senior Cycle, to see that the students can achieve at the highest standard of which they are capable.
Personalised Mentoring Programme
Each student will receive personalised mentoring and coaching. The programme will include the following:
Analysis of Progress. This informs the setting of proximal goals which are set based on the student's academic projections. These change as the student continues to progress.
Regular review process. All students receive regular reviews to ensure that they remain focused and on course to achieve their own goals.
Personalised Feedback. Each student will receive detailed feedback on his/her assignments. Assessment for learning is central to students academic advancement
Individual coaching meetings. Individual meetings are held with the Principal who has special responsibility for the senior students.
Effective Study Timetables. Students receive personalised study timetable that take into consideration the individual student's schedule.
Regular personalised mock exams. Students can access individual 'mock' exams throughout the year to align their study with an assessment of learning.
Extra Tuition: As currently practiced, extra tuition is provided by all teachers on request
Mindfulness Support: Personalised support in the developing of Mindfulness based strategies and practices
At all times during the student's final years, JSS is deeply cognisant of maintaining a balanced and supportive approach in all areas of a young person's development recognising the importance of cognitive development, emotional intelligence, physical endeavour, and self-discovery. This is all underpinned by an atmosphere of mutual respect between teacher and learner.
Components of Personalised Mentoring Programme
1. Academic Mentoring
All students individually met in 5th and 6th year with Principal, Senior Cycle Head and Class Teacher on a regular basis
Individual profiles on academic development of students developed by all teachers
As currently practiced, extra tuition is provided by all teachers on request
Outside class sessions on threshold concepts
Design of effective study timetables
Personalised Mock exams and development of exam technique
Development of individual learning plans
Development of study and learning skills
2. Career Guidance
Personalised careers coaching with one-to-one meetings with Guidance Counsellor
Guidance classes every week
Regular career talks on all areas including a "Tell your story" series covering all careers
A specialised Career Guidance week
Careers evenings
Use of Careers Reach programme consisting of career planning, self Assessment, study skills, world of work, world of education
CAO application support
3. Well-being and Personal Development
Identification of the unique strengths and learning style using learning style questionnaires and interest inventories
Leadership programme and development for all students
Life Skill seminars in areas such Study skills, How to Learn and Stress Management, Emotional Wellbeing and Motivation
Personalised support in the developing of Mindfulness based strategies and practices
Care Team responsible for the guidance and general well being of the students. This Care Team will involve the Senior Cycle Head, the Class Teachers and the Guidance team
Drop in centre available for support on guidance questions